---
MAX (Retired Police Doggie)

A Super Story of MAX, a retired police doggie, who now has his Spring back thanks to a new set of wheels!!
Police sniffer doggie was forced to retire with arthritis and is now enjoying life again, with the help of his two wheeled chariot, so very kindly bought for him by his collegues at Avon & Somerset Police, after his 7 years of dedicated service.
Eight year old MAX had to stand down from active duty due to his disabilities, hip, back and leg problems, but thanks to his new aid now enjoys life to the full, in his retirement, and plays and chases tennis balls with his best buddie STANLEY.
Max is now being looked after by Devon & Cornwall Police and his Handler, Inspector Anne Higgins, says ' They have given him back his freedom, there is nowhere he can't go and as well as running and walking MAX often goes swimming and attends hydrotherapy sessions.
The all-terrain device provides him with balance and support and he took to them within one day.
The wheels were paid for by a Special Police Fund for retired sniffer dogs.
A Very Happy Boy. Well Done MAX and Great Thanks to Your Collegues at the Force.
Pictures below of MAX with his wheels! along with Best Buddie STANLEY & MAX with his handler ANNE.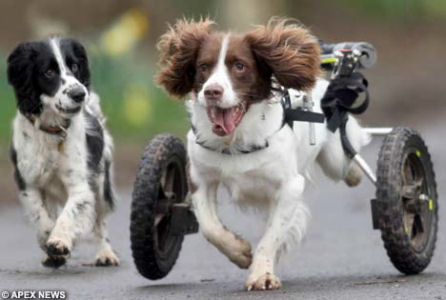 See the look on Stanley's face!!! 'Wow Max, you're fast!!!!!!!!!!!!!!!
Dear Max's wonderful story was featured in our Summer Newsletter '08.
However, we then told our readers, in our Summer Newsletter '09, the VERY sad news of Max passing on. He awaits us all on Rainbow Bridge.
Max's treasured 'wheels' were no longer needed.................
Until!!!!.... Along came Skipper.....
Skipper spent over 5 years in rescue kennels, due to Doggie aggression. He was rehomed and after finally getting his problem under control, another problem occured, Dear Skipper's back end suddenly gave way and his Mum & Dad needed help. They contacted Max's Mum and handler, Anne, and now the wheels are back in action!!!!!!!!!!!!
It has taken some getting used to!! and many bags of bacon bits!!!!!!!, but Skipper has finally got the hang of things!!!!!! and is now in full flow!!!!!!!!! and can get up quite a speed, especially if he can smell the bacon!!!!!!!!!!!
Here he is......
MAX WILL BE PROUD.........................